Engineering company expands to help industry recover from lockdown
Engineering company expands to help industry recover from lockdown
A WORLD-RENOWNED engineering company has used lockdown to accelerate its growth plans to help industry recover from lockdown.
UK-based Forth Engineering is known for providing world-first solutions to industrial challenges all around the globe.
The Cumbrian-based company, with bases in Maryport, Cleator Moor, and Barrow, moved to remote working during the lockdown.
But while some companies have scaled back their operations, Forth has fast-tracked its expansion plans ready to come back even stronger.
Forth is building three new offices at its headquarters at Maryport, doubling the size of its retail space at its trade counter, making more use of its 68,000 square-feet base in Cleator Moor as an innovation hub, and recruiting two more design engineers. Forth's managing director Mark Telford said: "The lockdown has given us time to reflect and look at our business and it has concentrated our minds on what areas to focus on so we come out of the other side leaner and even stronger.
"We have been planning for how our sites will operate when they reopen as restrictions are eased.
"We are ready to be first in the queue to provide solutions when a range of different industries come to us with their problems.
"We are carrying out a refurbishment of our Maryport site and making a significant investment to build three new offices.
"We are also extending the trade counter to open up the first floor – effectively doubling the size of the retail space – so that we can stock PPE and other items which businesses are telling us they need."
Forth has been active on a range of fronts – developing new products in the fight against COVID-19, supplying vital equipment to help hospitals, care homes and businesses, making important donations and bringing some much-needed cheer to communities.
A disinfecting robot developed by Forth during lockdown has now gone into production at its Maryport base.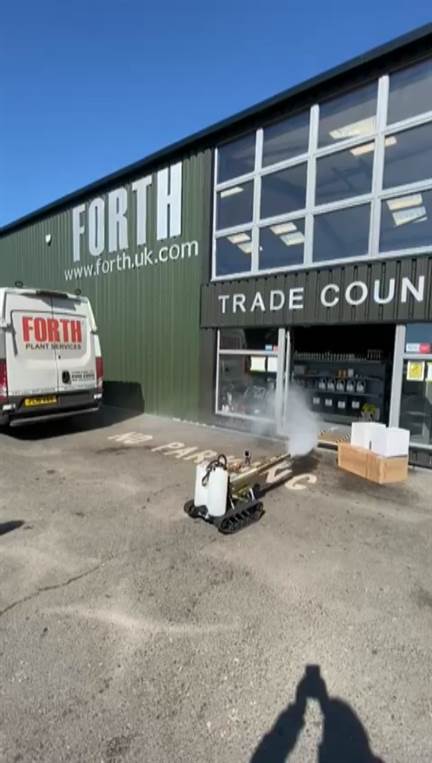 Forth has already sold eight of its disinfecting cannons to industries preparing their sites to welcome back workers as lockdown eases.
Forth has also sourced a further 12,000 items of PPE – on top of 6,000 gowns and 6,000 masks it had already supplied – to be donated to West Cumberland Hospital, and local care homes after members of Unite, GMB, and Prospect unions at Sellafield raised £30,000 in a community fundraising campaign.
Members of Forth's own staff have also donated and delivered more than 2,000 masks to Workington and Millom Community Hospitals as well as to community nursing teams
in the rest of the area.
Forth has also provided support to a local volunteer group who have been sewing and making scrubs for NHS staff and other front line carers across Cumbria and beyond.
It has given up its office space at its Cleator Moor base for free to charity organisation Scrub Hub North West which delivers to local hospitals and volunteers' homes.
Every Thursday evening, Forth, along with Mossop Construction Services and a host of other businesses, have been raising money for local health services by travelling in large vehicles around Frizington, Cleator Moor, Wath Brow, Cleator, Egremont, and Bigrigg, with lights flashing, drivers waving and horns honking to bring some positivity to the community.
Mark said: "Last week there were 90 vehicles taking part. We've been doing this to raise money for local health services and to help lift people's spirits. We've had people tell us
that it's the first time they've come onto their doorstep and that it has really cheered them up. Everyone is respecting the social distancing rules and we just want to help bring some positivity to the area and raise money for the local hospital."
So far the teams have smashed their initial £1,000 fundraising target and have raised more than £4,000. Their new target is £10,000. Donations go towards West Cumberland Hospital. More details are available on Forth Engineering (Cumbria) Ltd Facebook page.
Mark Telford, managing director of Forth Engineering
Forth's disinfecting robot which has now gone into production at its Maryport site and has been developed by the company to help in the fight against COVID-19
Forth Engineering's trade counter at Maryport where the retail space is being doubled to enable Forth to supply businesses with PPE and other essential equipment
Forth Engineering is an award-winning UK advanced technology solutions business with bases at Maryport, Cleator Moor and Barrow in Cumbria.
Forth has used its expertise and skills to invent a disinfecting robot to help in the fight against coronavirus.
Its other recent projects include working to develop a world-first Friction Stir Welding Robotic Crawler (FSWbot) for internal repair and refurbishment of pipelines which can
be used by a range of industries without having to stop production.
It has also recently worked with partners on developing the pioneering Hullguard system of protecting floating offshore installations from corrosion without using divers which has
been successfully deployed for the first time in the UK North Sea.
Forth's Avexis robot is a previous winner of the Best Academic Collaboration Award at the Innovus Awards backed by the National Nuclear Laboratory and The University of
Manchester's Dalton Nuclear Institute to showcase pioneering technology being used in industry.
Managing director Mark Telford is a former winner of the in-Cumbria Businessperson of The Year Award.
Forth is a CHAS (Contractors Health And Safety Assessment Scheme) accredited contractor.
This press release was issued by 32West on behalf of Forth Engineering (Cumbria) Ltd. If you have any questions or requests, please contact Jonathan Lee 07444-022038;
jonathan@32west.co.uk